Welcome to the 26th LIDS Student Conference!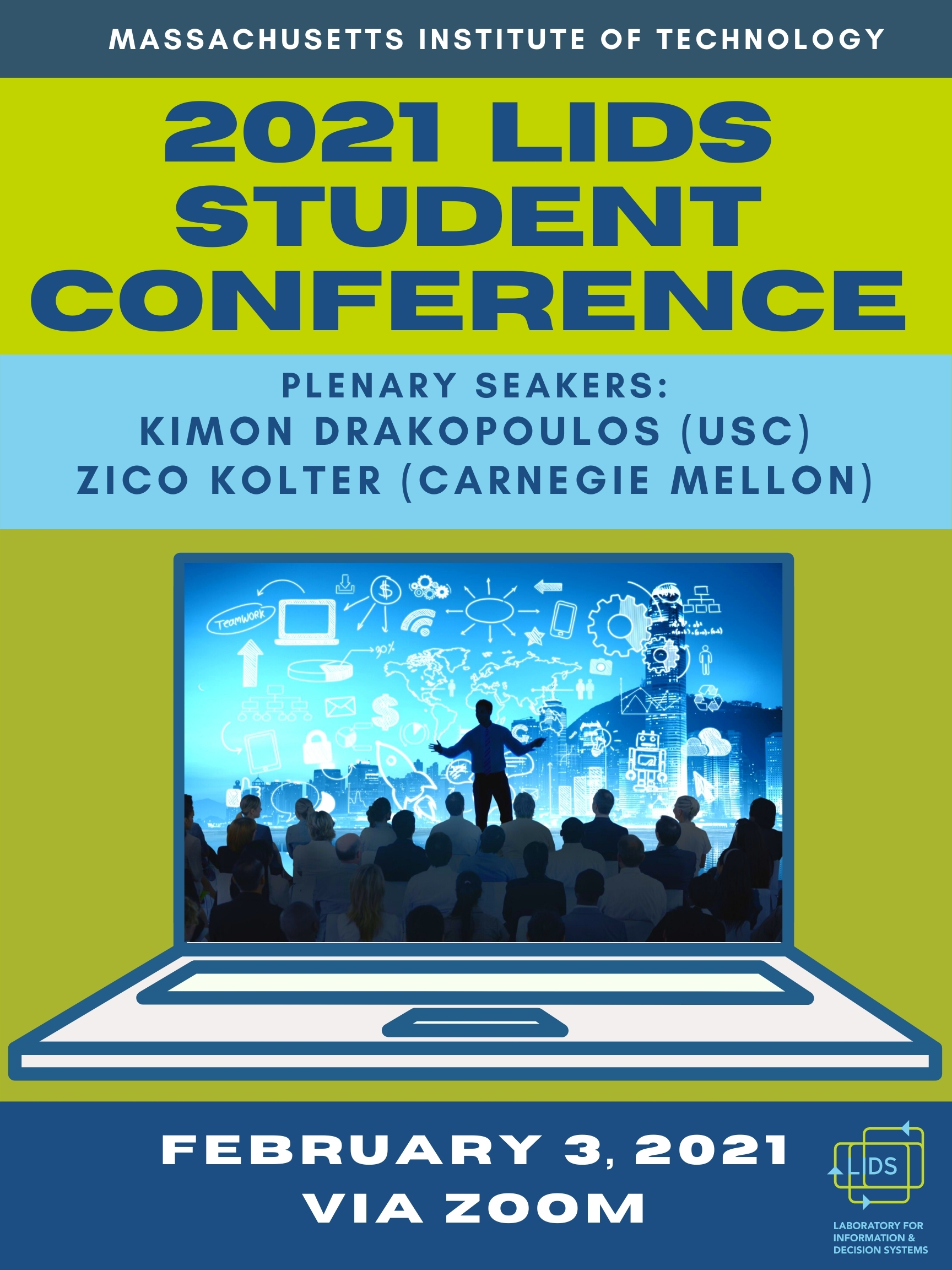 The annual LIDS Student Conference is a student-organized, student-run conference that provides an opportunity for graduate students and postdocs to present their research to peers as well as to the community at large. This year, we are delighted to welcome two distinguished plenary speakers accompanying four student sessions in:
Machine Learning, Information, and Statistics;
Control, Autonomy, and Decision Making;
Networks, Systems, Games and Economics;
Optimization, Algorithms and Theory.
Due to COVID-19, this year's conference will be held virtually via Zoom and Gather.Town.
To find out more about the Laboratory for Information & Decision Systems (LIDS), MIT's oldest lab, please visit LIDS website.
Past years: 2020, 2019, 2018, 2017, 2016, 2015, 2014, 2013, 2012, 2011
Plenary speakers
We are delighted to have with us as distinguished plenary speakers:
Kimon Drakopoulos
Assistant Professor of Data Sciences and Operations
USC Marshall School of Business

Zico Kolter
Associate Professor of Computer Science
CMU School of Computer Science
News
New conference date: February 3, 2021. Program remains the same.

We are glad to announce that the LIDS student conference will be held virtually on a new date: February 3, 2021. The program details remain the same.

2021-01-29

The conference will be postponed due to unforeseen circumstances

Unfortunately, we had to postpone the LIDS student conference due to unforeseen circumstances. More information will follow soon.

2021-01-27

Registration is now open!

The registration for LIDS Student Conference 2021 is now open. Please register for the conference and sign up to give a talk/present a poster!

2020-11-08

The 2021 LIDS Student Conference website is now open

The 2021 Conference website is now online! If you have any questions, please email the organizers.

2020-11-08